Defining Myth
"Myths are universal and timeless stories that reflect and shape our lives – they explore our desires, our fears, our longings and provide narratives that remind us what it means to be human."[1] What are the meaning of the words myth and mythology, and why are they necessary for the study of a culture or religion? These are the main questions that will be answered here.
According to the dictionary mythology is defined as a body of myths or a branch of knowledge that deals with myth.[2] This leads us to the main question of what is a myth and this is a question that has been argued over since the time of Homer and the Iliad.  There are many theories associated with myth.  The thing to consider here as we look at the different theories of myths is that every theorist looked at myths from a certain point of view, mostly this point of view was associated with the field that he came from or was interested in.  Theories of myth go back to at least Pre-Socratics if not older.[3] The main focus of this essay however will be the 19th and 20th century when most of the current theories of myths were developed.
As people started to advance and look back at their heritage it was only natural that they would look at the corpus of myths they had, whether oral or written down. The study of myth and indeed the definition of myth became a matter of debate. The people who studied myths however were all united by the questions they asked. The questions were, why and how did myths arise, why and how they persisted, and the subject matter of the myths (mainly how they were read, whether literally or metaphorically).[4]
The myth theorists in the 19th century and the 20th century each had a different focus when looking at myths. This does not mean that that focus was absolute but it was definitely a focus that you saw repeated. In the 19th century the focus was on the origin of myth, while in the 20th century it was more about the function of myth.
There were also many different approaches when looking at myth and that depended on who did the looking. The theorists looked at myth and science, myth and philosophy, myth and religion, myth and ritual, myth and psychology, myth and structure, and myth and society. Each one of these theorists had a different definition of myth seen from his point of view and the field of study he came from.
Starting with myth and philosophy, there are different positions held by the theorists in that field: that myth is part of philosophy, that myth is philosophy, that philosophy is myth, that myths grow out of philosophy, that philosophy grows out of myth, that myth and philosophy are independent of each other but serve the same function, and that myth and philosophy are independent of each other and serve different functions. Some names in this field include Paul Radin, who thinks that some primitives are philosophers and that they are capable of criticism; and Cassirer, who says that primitive thinking, has its own brand of logic. Two names that say that myth is philosophy are Rudolf Bultmann and Hans Jonas.
When it comes to myth and psychology two names that have almost monopolized the study of myth are Sigmund Freud and Carl Gustav Jung. Both of these men compared myths with dreams. To both these psychologists a myth has two levels of meaning one is literal and the other is symbolic of something deeper. To Freudians the goal is to establish oneself in the external world, free of the domination of parents and instincts. To the Jungians that is just one part of the story, the second part is to achieve consciousness, not of the external world but of the internal one, which Jungians call the collective unconscious.  Jung correlates myths with stages of psychological development. Neumann, a Jungian, worked out the stages of this development.  The most extreme development of the Jungian theory of myth is the emergence of archetypal psychology.   Another psychoanalyst, Jacob Arlow, sees myth as contributing to normal development rather than to the perpetuation of neurosis. Myths help the person adjust to the social and the physical world rather then run away from it. Joseph Campbell centers his notion of the hero myth on the journey undertaken by an adult male or female hero, from the known human world to the unknown world of the Gods. It is (in psychological terms) an inner journey from the known portion of the mind to the unknown portion of the mind, the unconscious. Myth serves to open up to the soul's own depth.
Myth and science have had a rocky relationship. It began with an ethical challenge presented by Plato, which then developed into a challenge from modern science. Science challenges the credibility of myth based on the scientific method. Is anything said in the myths provable my science. One response to this challenge is by trying to reconcile myth with science, concepts in myth that don't agree with science are removed, however, the most common response to the challenge is to abandon myths in favor of science. Myth is banished to the realm of religion and as such need not be subjected to science. Modern religion has become a combination of metaphysics, and ethics and no longer seeks to explain things that have to do with science. For J. G. Frazer myth is part of primitive religion, primitive religion is part of philosophy, and primitive religion is the counterpart to science. Another view comes from Levy-Bruhl, who says that the primitives think differently, and believe that all phenomena are part of the sacred or mystic realm pervading the natural one. Another figure that is prominent in this part of the discussion is Malinowski, who argues that primitives are too busy trying to survive in the world to have the luxury of reflecting on it. He theorized that primitives used myth as a fallback to science. Where their science stops magic takes over and where magic stops myths take over, to reconcile themselves with the parts of their world that they have no control over. Levi-Strauss believed that primitives thought differently then we do and so created myths to explain their thoughts in their world. To Levi-Strauss myth is the primitive counterpart to MODERN science. Myth to him is PRIMITIVE science. To Karl Popper science came out of myths, not because of the acceptance of it but rather out of criticism of it.
Myths are put under the category of religion when studied along side religion. This of course again put myths under attack from science and in the 20th century theorists tried to reconcile myths with science by reconciling religion with science. One way to do that was to recharacterize the subject matter of religion and therefore myth. Religion is not about the physical world so it is safe from science. Under this heading myths are read symbolically rather than literally. The other approach is to elevate secular phenomena to religious ones. Now the stories are about mere humans but they are elevated to the status of virtual gods, this means that the myth can once again be read literally. One of the most well known theorists in the field of myths and religion is of course Mircea Eliade, who theorized that hierophanies form the basis of religion, splitting the human experience of reality into sacred and profane space and time.
According to the myth-ritualist theory myth does not stand-alone but is tied to ritual. Myth is not just a statement but an action as well. William Robertson Smith, who believed that belief is central to modern religion but not ancient religion, pioneered this theory.  In Ancient religion ritual was central. J. G. Frazer, and many others in the fields of religion anthropology and literature then took this up and developed it.
In Structural anthropology, Claude Levi-Strauss, a French anthropologist, makes the claim that "myth is language". Through approaching mythology as language, Levi-Strauss suggests that it can be approached the same way as language can be approached by the same structuralist methods used to address language. Levi-Strauss clarifies, "Myth is language, functioning on an especially high level where meaning succeeds practically at 'taking off' from the linguistic ground on which it keeps rolling."  Levi-Strauss breaks down his argument into three main parts. Meaning is not isolated within the specific fundamental parts of the myth, but rather within the composition of these parts. Although myth and language are of similar categories, language functions differently in myth. Finally, language in myth exhibits more complex functions than in any other linguistic expression. From these suggestions, he draws the conclusion that myth can be broken down into constituent units, and these units are differ from the constituents of language. Finally, unlike the constituents of language, the constituents of a myth, which he labels "mythemes," function as "bundles of relations."  Reading it in sequence from left to right, top to bottom, the myth is categorized sequentially and by similarities.  A structural approach towards myths is to address all of these constituents. Furthermore, a structural approach should account for all versions of a myth, as all versions are relevant to the function of the myth as a whole. This leads to what Levi-Strauss calls a spiral growth of the myth which is continuous while the structure itself is not. The growth of the myth only ends when the "intellectual impulse which has produced it is exhausted."
Malinowski looks at myths as a way to deal with natural phenomena but also to deal with social phenomena like classes, taxes, and rituals.  Myth does not only serve to reconcile humans with the unpleasantness of life, but also with unpleasantness that can be avoided.  The myths trace these things back to the past giving them a feel of tradition.  This helps people deal with things like rank, and ones position in society.  The myths here benefit society not the individual.[5]
One other important development in the study of myth is the Comparative method pioneered by Georges Dumézil.  It is based on the comparative method used in linguistics and it is the comparison of myths from different cultures in an attempt to identify shared themes and characteristics.  Georges used this method to study the myths of the Indo-Europeans and their branching cultures.  He developed his tripartite system using comparative mythology.  The Trifunctional hypothesis postulates an idéolgie tripartite ("tripartite ideology") in prehistoric Proto-Indo-European society, reflected in the existence of classes or castes, those of priests, warriors, and commoners (farmers or pastoralists), corresponding to the three functions of the sacral, the martial and the economic, respectively.
Now we are ready to define myths, but perhaps before we get into the definition of myth we should look at the development of myths across time.  There is evidence of myths since the time of the hunter-gatherer societies in the form of cave paintings. Most of these myths were about everyday life and were probably associated with ritual. The cave paintings were about the animals hunted, and the rituals associated with the hunt. As man learned to farm, the focus of the myths changed to the rituals associated with the farming year, and the animals that go with it. As time went on and people learned to live in cities they saw their cultural attainments enter into the myths. It would seem that whenever man entered a new era of history he changed his idea of humanity and divinity and the contents of the myths also changed. In the end though these myths always ended up being about the same thing. Myths were about the human predicament and how to cope with it. Myths are about enabling man to live more intensely within the world around him.[6]
According to the New Oxford American Dictionary, a myth is a traditional story, especially one concerning the early history of a people or explaining some natural or social phenomenon, and typically involving supernatural beings or events, a widely held false belief or idea, a misrepresentation of the truth, a factious or imaginary person or thing or an exaggerated or idealized conception of a person or thing.  Karen Armstrong in her book A Short History of Myth says that myths are guides, they are stories that accompany ritual and that help humans cope with the human predicaments.  In an essay by William Bascom called Forms of Folklore: Prose Narratives different definitions for myth, legend and folklore are given as follows: Folktales are prose narratives which are regarded as fiction.  Myths are prose narratives, which in the society in which they are told, are considered to be truthful accounts of what happened in the remote past.  Legends are prose narratives, which like myths, are regarded as true by the narrator and his audience, but are set in a period considered less remote, when the world was much as it is today.[7] In another essay this time by Lauri Honko called The Problem of Defining Myth, Honko presents his definition of myth as follows "Myth, a story of the gods, a religious account of the beginning of the world, the creation, fundamental events, the exemplary deeds of the gods as a result of which the world, nature and culture were created together with all the parts thereof and given their order, which still obtains.  A myth expresses and confirms society's religious values and norms, it provides patterns of behavior to be imitated, testifies to the efficiency of ritual with its practical ends and establishes the sanctity of cult.  The true milieu of myth is to be found in religious rites and ceremonial.  The ritual acting out of myth implies the defense of the world order; by imitating sacred exemplars the world is prevented from being brought to chaos.  The reenactment of a creative event, for example, the healing wrought by a god in the beginning of time, is the common aim of myth and ritual.  In this way the event is transferred to the present and its result, i.e. the healing of a sick person, can be achieved once more here and now.  In this way, too, the world order, which was created in the primeval era and which is reflected in myths, preserves its value as an exemplar and model for the people of today.  The events recounted in myths have true validity for a religious person.  For this reason the use of the term myth in everyday language is from the scholarly point of view inexact (in ordinary language myth is often used expressly for something untrue, utopian, misguided, etc.).  The point de depart, then, is criticism directed towards religious groups and traditions from outside and this criticism has always existed.  Nowadays attempts have often been made to brand non-religious ideas, political ideas, economic teaching, etc., as myth."[8] Finally, Alan Dundes gives us a very simple definition of myth as follows: A myth is a sacred narrative explaining how the world and man came to be in their present form.[9] These are just a few of the definitions out there on myths.
Defining myth is an exercise that has eluded many who studied the myths.  I think the main reason for that is that everyone tends to define myths from their field of study.  The real question is CAN myths be defined successfully.  And are we really trying to define myths or RECOGNIZE them and separate them from legends and folktales.  I have not found a good answer for the question of whether we CAN define myths but we are trying to RECOGINZE them and differentiate them from legends and folktales.  To that end William Bascom in the above mentioned essay gives us a good guideline for the differentiation.  He gives us a framework to look at that should help us make a judgment.  [10]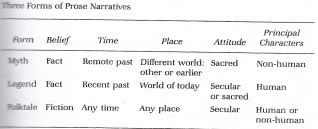 So which one of these definitions makes sense to me if any?  I'm going to go with William Bascom's definition combined with Lauri Honko's.  William's definition is simple and straightforward but I would like to add to it the phrase "both written and oral".  Honko's definition when I first read it seemed to be too big and limited.  However, after looking at it closely it all made sense to me because it included a lot where other more general definitions didn't.  It encompasses all the different fields of the study of myth.
If we are going to talk about the values of myth then we need to define which field of the study of myths we are going to get our answers from.  I'm going to choose looking at myths from the social, religious, ritualistic points of view.  From a social point of view, myths can give us a look at the values and ethics of the older societies of the cultures we are studying.  They will also give us a look at the conduct of the individuals in these ancient cultures and perhaps teach us how we might want to behave in our own societies.  From the religious and the ritualistic point of view myths can give us the actions that have shaped the religious views of these ancients and the rituals they may have preformed be it in religious capacity or even the developmental stages of the individual or society.  If we lose these myths or the capacity to read them then we lose the knowledge of the way that we may behave within a society, we become divorced from the land around us that at one point perhaps was the focus of these religious rituals.  We lose the markers of the developmental stages of individuals within society and society could become a mass of chaos.
Defining myths as a whole is a difficult task.  The best anyone can do is to show how to recognize myths and how to analyze the myths from the corner you chose to study them from.  Some myths can be studied from different perspectives like religion, society and ritual; others can only be looked at from the point of view of philosophy or psychology.  Do not limit yourselves to just one field.  Another important point to keep in mind is that myths could not be understood properly without reference to the cultural in which they exist.  For those who think that myth and science cannot co-exist, try looking at it this way, science and mythology extend the scope of human beings.  A myth is true not because it gives us factual information but because it is effective, however, if it does not give us new insight into the deeper meaning of life it has failed.
This was just a brief look into the world of myths.
---
[1]
Karen Armstrong,
A Short History of Myth
(New York: Canongate, 2006) p.87
[2] "mythology" Merriam-Webster Online Dictionary. 2009. Merriam-webster Online 27 December 2009. <http://www.merriam-webster.com/dictionary/mythology&gt;
[3]Robert Segal. Myth- A Very Short Introduction. (USA: Oxford University Press,2004) p.14
[4] "Myth". New Dictionary of the History of Ideas (New York: Charles Schriber's Sons, 2004) p.1560
[5]Robert A.  Segal.  Myth: A very Short Introduction. (Oxford: Oxford University Press, 2004)
[6]Karen Armstrong, A Short History of Myth (New York: Canongate, 2006)
[7] Alan Dundes. Sacred Narrative: Readings in the Theory of Myth. (California: University of California Press 1984) pp. 8-9
[8] Ibid, p.49
[9] Ibid, p.1
[10] Alan Dundes. Sacred Narrative: Readings in the Theory of Myth. (California: University of California Press 1984)  p.9